JOIN MISSION IN MOTION
Join us for our annual Mission in Motion. This year we will again be partnering with the Chicago Spring Half Marathon/10K to raise funds for the mission of Youth for Christ. Whether you choose to run the half marathon or 10K, you will get to enjoy a scenic run along Columbus Drive with sweeping views of Chicago's famed skyline and Lake Michigan.
More importantly, you have the opportunity to help change the lives of kids all over Chicagoland, the Kankakee area, and Northwest Indiana. By participating in this event, whether as a fundraiser or a runner, your support will directly impact our ability to reach kids with the life-changing message of the Gospel.
So join us for and make an even greater impact in the lives of kids!
SUNDAY, MAY 19, 2019
7:00 AM
Maggie Daley Park
337 E. Randolph St.
Chicago, IL 60601
Half - $95 | 10K - $65
Includes registration & YFC shirt
Registration Deadline: 5.1.19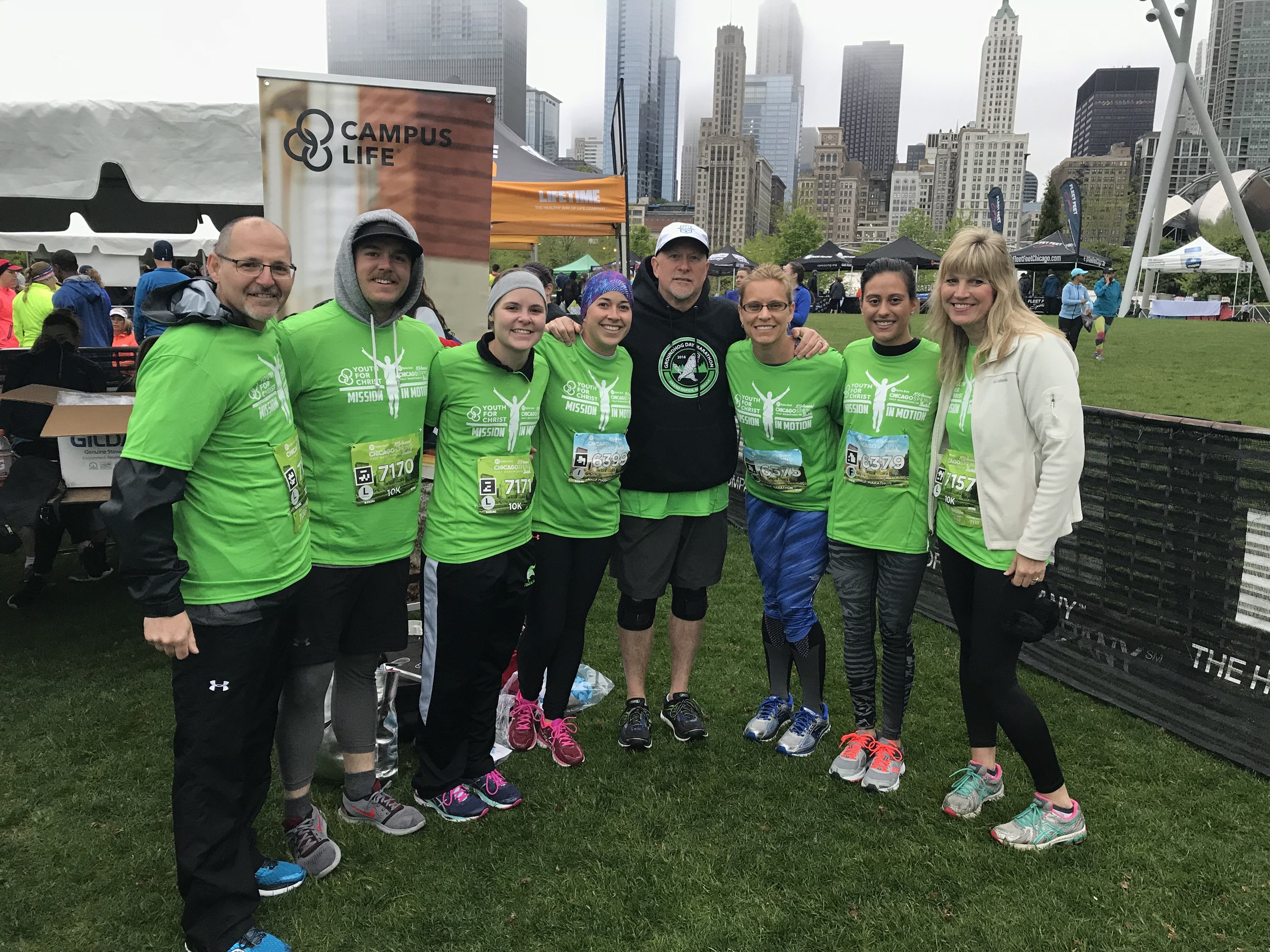 REGISTRATION
To represent Youth For Christ in the Half Marathon or 10K, please follow the registration steps below.
1
REGISTER WITH YOUTH FOR CHRIST
Register by clicking the button below. Once you register, you will receive a email with a registration code from YFC to use on the Chicago Spring Half Marathon/10K website. If you plan to fundraise and raise $500 or more, YFC will reimburse your registration fee.
2
REGISTER ON RACE WEBSITE
Once you receive your registration code from Youth For Christ, you can register for the race at chicagospringhalf.com. Be sure to select Youth For Christ Chicago as your charity and use the registration code you received as your promo code at check-out.
3
SET UP YOUR FUNDRAISING PAGE
After you register, you will receive an email with instructions on how to set up a fundraising page. You will be able to share this with your friends and family to make a tax-exempt donation to support the mission of Youth For Christ. If you would like to set up a fundraising page and do not plan on participating in the race, contact Calvary Au at cau@yfcchicago.org.
VOLUNTEER
Not a runner? There are still a variety of ways to be a part of the team on race day. Join our volunteer team and help cheer on those running for Team Youth For Christ.
SPONSORS
We want to thank our sponsors who have generously supported the mission of Youth For Christ.
If you are interested in being a corporate sponsor for Mission In Motion, please contact Chuck Maw at cmaw@yfcchicago.org.